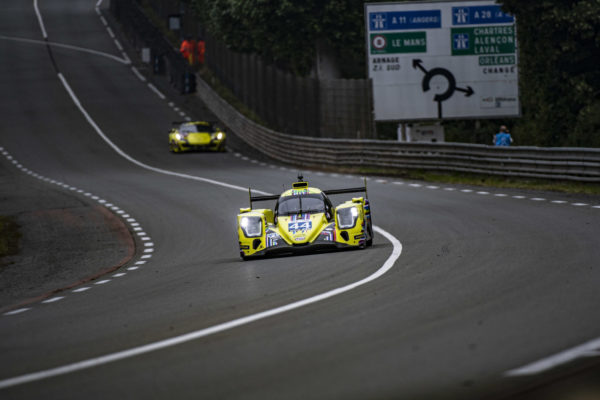 The Slovak team ARC Bratislava will start the 90th edition race of the 24 Hours of Le Mans from an
excellent 3rd place in the LMP2 Pro / Am class. Yellow #44 Oreca 07-Gibson with Miro Konôpka, Bent
Viscaal (NDL), Tristan Vautier (FRA) holds 22nd place overall.
Qualification started in relatively good weather, complicated only by the strong wind. 22-year-old
Bent Viscaal despite lot of GT traffic gradually improved the time to 3: 33,480 min. 25 minutes into
the session he pitted for a driver change, but the red flags stopped the qualifying after Daytona
chicane crash.
Then Frenchman Tristan Vautier set out on the track, but by the time he managed to set off for the
first timed lap, it began to rain heavily in the first sector of La Sarthe circuit. At that time, the ARC
Bratislava team was 5th in the LMP2 Pro/Am class.
The race directorate carefully monitored the track limits and deleted the times of our closest rivals:
the number 44 moved to 3rd place in the LMP2 Pro/Am and remained there until the end, as no one
can improve their time in heavy rain.
Miro Konôpka evaluated the first training and qualification positively: "Due to a small technical
problem in the Test Day, we were able to improve in Free practice 1 by more than 3 seconds per lap
and I am happy about that. In the end, it's a nice 3rd place on grid in our category. Although we
know, 24h Le Mans is such a long and specific race, and it really means nothing. But at least it will
encourage us to continue working.