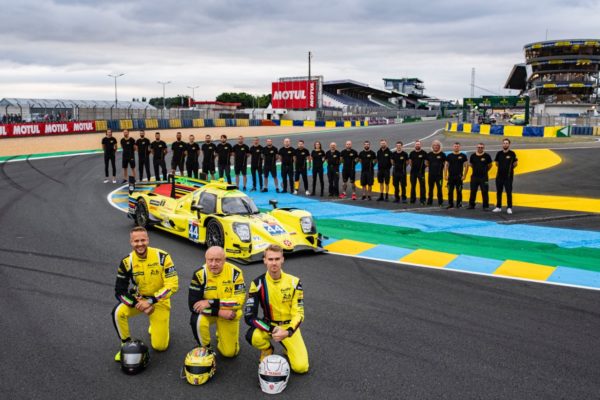 The best result in Le Mans for ARC Bratislava
The toughest races of the year ended happily. The Slovak racing team ARC Bratislava experienced all kinds of emotions at the legendary endurance race 24 hours of Le Mans 2021 – from despair to euphoria with the best result at the finish.
Oreca 07-Gibson with the number 44 passed the finish line of the most famous race in the world in 24th place in the overall ranking. The yellow prototype finished on the excellent 6th place in the LMP2 PRO/AM class.
Miro Konôpka thus improved his best result at the fifth start on the La Sarthe circuit, as in 2010 he also reached the finish line in 24th place, but in the LMGT2 class he was in 8th place. "Just finishing this race is a huge success," said after jump out of the cockpit after the finish of the 89th edition of the mythical race. "We had a great start, then came the difficult times when we had technical problems, but I refused to give up and I managed to get the car into the pit. Then we had a great night stints and finished sixth in our category among professional drivers, former F1 drivers. I'm happy for this result, which may be the best Slovak result at Le Mans for many years to come. "
Maťo Konôpka completed his debut in France at the 24 Hours of Le Mans and did do his job well: "I also had a crisis when I crash the back of the car, but I'm glad it was nothing serious and I didn't spoil the result for the whole team. It was like a dream come true for me and I want to thank from the bottom of my heart everyone who make this happen," said Matej Konôpka at the finish.
For Oliver Webb, it was the eighth start at Le Mans, but only the second time did he reach the finish line. As a rookie in 2014 he was able to reach the LMP2 podium. He showed top performance this year and his lap times were among the best in LMP2.
In Le Mans, double points were awarded to the FIA ​​WEC 2021 World Championships.
ARC Bratislava thus scored 20 points and in the season, with 45 points, they are 5th in the LMP2 PRO / AM rankings.
The season will continue in October and November with a double header in Bahrain.